About Us
An Act of the Colorado General Assembly created Washington County, named for George Washington, on February 9th, 1887. Washington County ranks 12th largest of the 64 Colorado counties with a total of 2524 square miles.  The 2015 population was 4,814 averaging over 320 acres for every man, woman and child.  There are 5 school districts in Washco: Akron, Arickaree, Lone Star, Otis and Woodlin.  Most of the land is dedicated to farming and ranching.  The county is the second highest of all of the Colorado counties in wheat production.  Akron is the county seat and the southernmost part of the county is the 'high point' on the great plains between Denver, Colorado and Akron, Ohio with Fremont's Butte and Rocking Chair being familiar landmarks to the locals.   Washco is a perfect place to relax, rejuvenate, and captures the honesty and determination of rural people and their families... Read more...
Carbon America Open House, March 22
More info below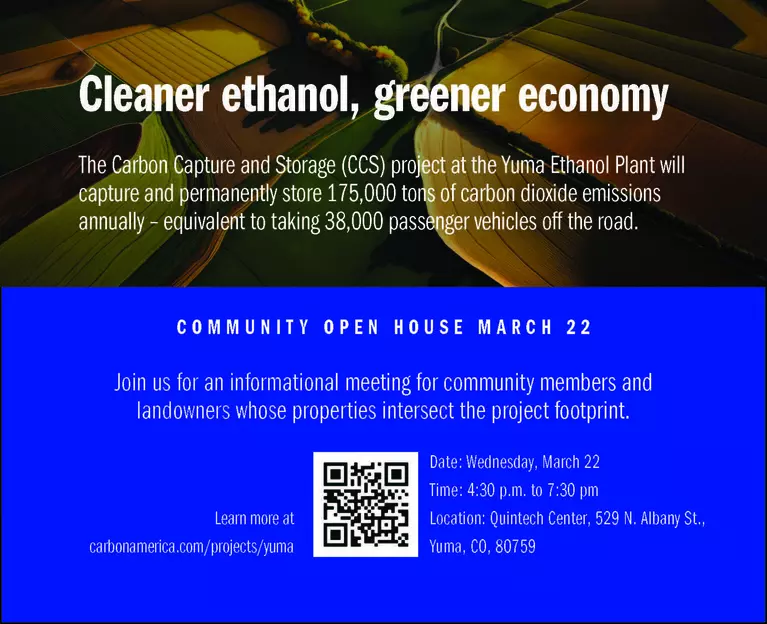 Colorado County Clerks Association Annual Scholarship
The Colorado County Clerks Association scholarship is established to aid outstanding Colorado graduating high school seniors in furthering their education, particularly in the field of public service. The scholarships will be awarded to qualifying students on an objective and non-discriminatory basis. The scholarships will be one-time awards on a regional basis:
Central Region: Two (2) $1,000 awards. One (1) $500 award
Eastern, Southern and Western Region: One (1) $1,000 and one (1) $500 award each.
The scholarship award may be used for educational expenses at an institution of higher learning including university, college, junior/community college, or technical institution.
Selection Criteria
 Completed application.
 3.25 minimum grade point average (G.P.A.)
 Participation in extracurricular, community and service
activities.
 Demonstrated financial need or hardship.
For those interested in applying, please contact your school counselor or the Washington County Clerk's Office for an application packet or at www.clerkandrecorder.org
Applications are due no later than March 31, 2023 and must be submitted by email, USPS or in person to the
Washington County Clerk & Recorder's Office
150 Ash, PO Box L
Akron, Colorado 80720
Minutes and Agendas

Budget and Audits

2021 Budget

Resolutions

Employee Handbook

 

Monthly Payables

Akron and Otis

Local Schools

Holiday Schedule

Veteran Services

Weed / Pest Control

TV Translator

Planning and Zoning

Landfill

Road and Bridge